Outdoor Shuffleboard Courts
VersaCourt shuffleboard courts are a cost-effective and low maintenance alternative to traditional stained concrete courts. Our courts can be placed directory onto nearly any solid, flat surface including driveways, patios, and decks. They are not only a great aesthetic addition to your property, but they provide a perfect disc glide for competitive play.
Request Quote / Design Assistance
Find a VersaCourt Certified Dealer
Benefits of Court Tile
Low maintenance - clean with hose or leaf blower
Available in custom sizes
Available in any combination of 17 colors
Unmatched durability that will stand up to harsh weather conditions
Learn More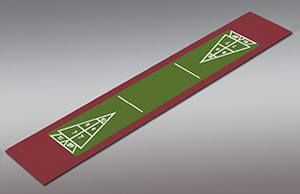 We offer 19 different DIY shuffleboard court kits available in any combination of 17 colors, but can also customize courts to your space. All courts are assembled and painted in our warehouse prior to shipment.
From discs, to cues, to wax, we offer everything that you will need to start your lifelong love affair with shuffleboard. Check out our all-inclusive shuffleboard sets to outfit your entire family!
See how easily disks slide across the VersaCourt shuffleboard court surfacing in this short video of a family playing a quick game on a Versacourt shuffleboard court that is placed on a driveway.
Shuffleboard Court Gallery