Packaging & Delivery
At VersaCourt, we make every effort to simplify the court building process to make it as easy as possible for our customers. These efforts extend to the packaging and delivery of our courts. However, due to the large size of these shipments, it is important to review the following information to ensure that you are prepared.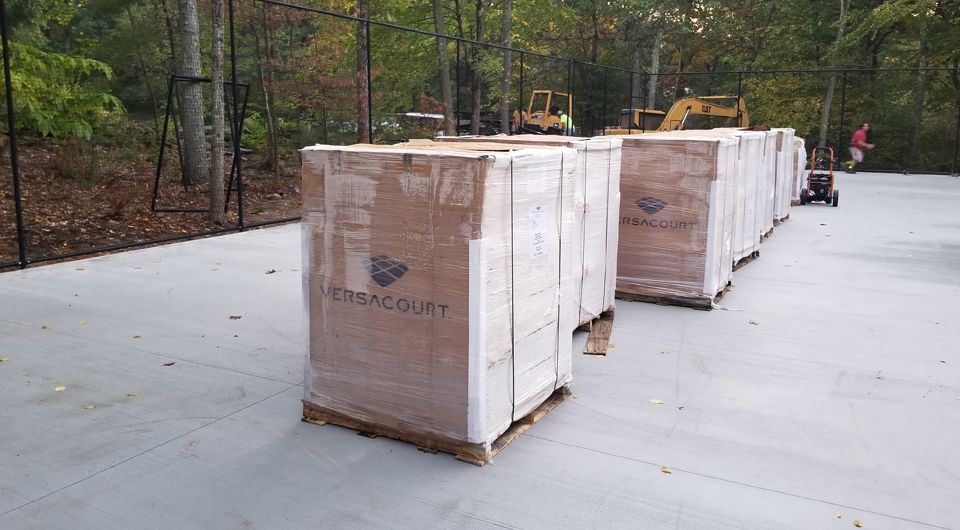 Packaging & Delivery of Court Tile
As noted in our Installation Video, after each court is assembled and painted in our warehouse, we separate it into 4 x 4 tiles sections. A numbered label is then applied to each section to identify the order in which it should be re-assembled at your location. The 4 x 4 tiles are then palletized numerically with section #1 on top and we include a diagram showing each numbered section and the order in which it is to be installed. We also include a picture of your court and installation instructions.
Our DIY courts, basketball goals, and other accessories are shipped via various freight carriers that make "curbside" deliveries. "Curbside" means that your shipment will most likely be unloaded on the street or base of your driveway. We typically utilize trucks with liftgate trailers for residential deliveries, but you will be responsible for moving the pallets to their desired location on your property. If you have access to any type of pallet moving device, please secure this before the arrival of your shipment. You can rent pallet moving devices at your local Home Depot or Lowes.
Packaging & Delivery of Basketball Goals, Fencing & Lighting
Due to their size, the components of our basketball goals, fencing and lighting are often packed onto a 12' long pallet and stretch wrapped for shipment via common carrier.
The components for basketball goals, fencing and lighting typically have to be manually removed from the pallet while still on the truck due to challenges involved with offloading a 12' long pallet.