Shuffleboard Court FAQs
We've collected the most commonly asked questions we're receiving when users are ready to purchase a shuffleboard court system. Browse the questions below to see if we can answer your questions. If you can't find the answer to your question, contact a VersaCourt team member today.
What type of subsurface does VersaCourt Shuffleboard Court need?
We recommend a level concrete surface for optimum performance, but any hard, level surface will work well.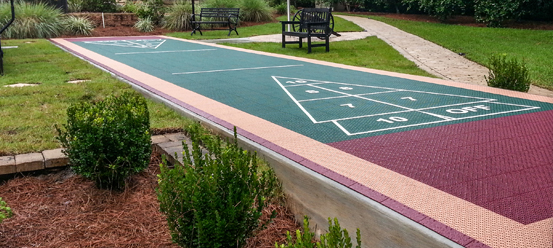 How do I clean my VersaCourt shuffleboard court?
VersaCourt tile can be cleaned in a variety of ways. If it is an outdoor application, leaves, sticks and trash can build up on the surface. A leaf blower can be used to remove most debris. If the tile surface is dusty or dirty then a power washer can be used – be sure to set it on a low-pressure setting and do not directly spray the painted lines. Over time dirt, leaves, rocks and other debris may accumulate under the tile. If this does occur to the point where the tile is full, undo the tiles in large sections and slide the tile out of the way to clean the subsurface.
How long does it take to get my shuffleboard court kit once I place order?
Custom shuffleboard courts normally ship within 7-10 business days. Please check with your representative to obtain a firm delivery date as seasonal volume can increase production timelines significantly.
What is life expectancy of VersaCourt shuffleboard court?
VersaCourt outdoor shuffleboard tiles come with a lifetime warranty.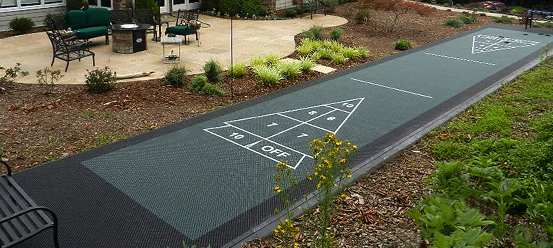 What is the VersaCourt tile made of?
VersaCourt tile are made from 100% virgin prime grade co-polymer polypropylene which contains the very best colorant additives that contain UV, anti-oxidant and anti-static materials to keep your court looking beautiful for many years.
Will the VersaCourt Surface withstand harsh northern winters or hot summers in southern climates?
The VersaCourt surface is designed to withstand all types of weather conditions outdoors including cold and hot. We have courts installed in Canada, Alaska, Mexico, South America and other harsh climate areas.
How well does the disc slide on VersaCourt shuffleboard surface?
VersaCourt is an ideal surface for shuffleboard. Disc slide is enhanced by the use of either our disc wax or by applying a light spray of silicone to the bottom of the shuffleboard disc prior to play. See VersaCourt Shuffleboard Court in Action.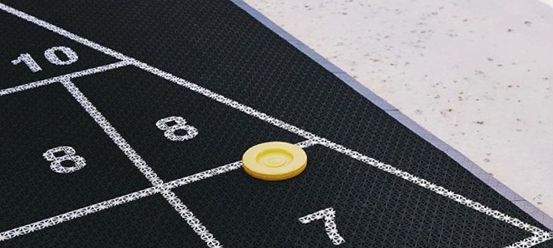 What if a tile becomes damaged?
While it is very infrequent that tiles get damaged, it is nice to know that most can be replaced in a matter of minutes. Simply insert a hook or screwdriver into a hole closest to the corner of the tile which does not have loops and pull up.
How is my shuffleboard court kit shipped?
We ship our shuffleboard courts through common carriers such as ABF, Yellow Freight, R&L or others. Your shuffleboard court will come on a pallet as a curbside delivery.
*Price ranges provided on this page are subject to change based on court size, game lines, and other requested customizations. Price ranges for tiles are averages based on VersaCourt pricing. Excavation, subsurface preparation and concrete pricing are based on national averages and are not included in this price as they can vary region by region. Court price range does not include court accessories, such as net systems and goal posts or shipping costs. Please reach out to our sales team to get a quote on a custom court design for your space.