The VersaCourt Advantage
At VersaCourt, we changed the sport tile market by working directly with consumers and landscape companies like you to figure out what you truly wanted. Sure, you wanted a tile that performed...a tile that withstood any weather...a tile that would stand the test of time. But you also wanted versatility, value and service.
So we built you what you wanted.
Versatility
We created an extensive product line of extremely versatile outdoor and indoor tile available in many colors with more game lines, accessories and custom decorating options than virtually anyone in the industry.
Customization Options: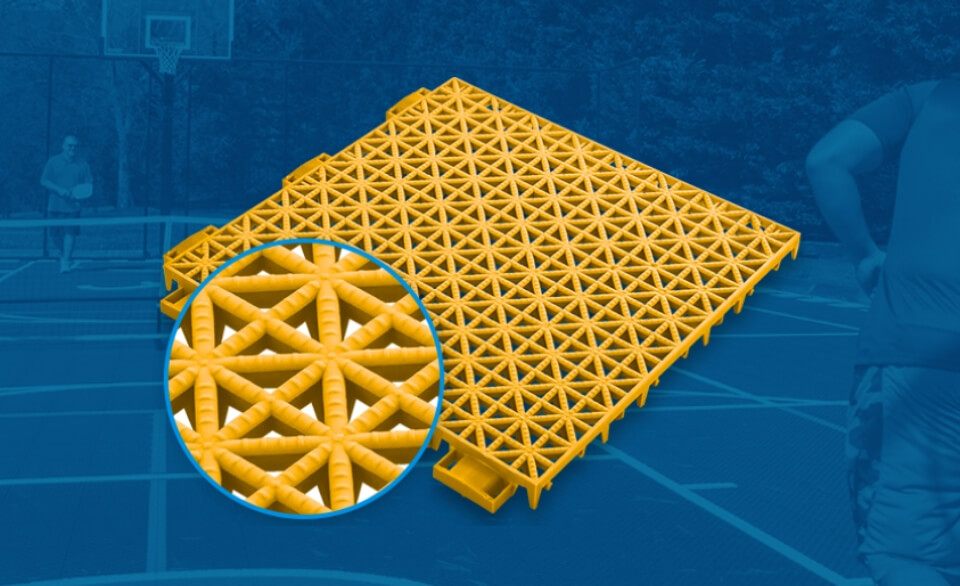 Value Advantage
Rather than investing in all kinds of expensive, patented features and trademarked taglines, we focused on manufacturing great tile…versatile tile…tile that performs…tile that lasts. Tile that combines VALUE with PERFORMANCE.

We combined this with a huge selection of game lines and accessories to provide even more value and then backed our courts with an industry-leading warranty.
Performance Advantage
VersaCourt tile courts are also designed to perform. The high-quality, American made tile yields courts that are safer and longer lasting than other court materials while still providing maximum playability.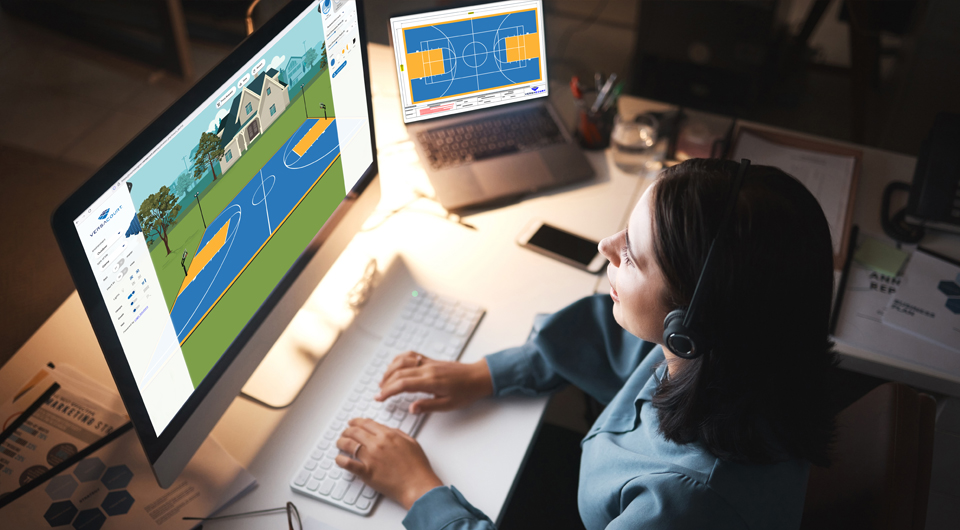 Design Versatility
Our commitment to versatility and service is exhibited in our ability to offer four distinct options to help you design the ideal court for your yard or facility.
Service
Once designed and ordered, all courts are entered into our proprietary Court Tracker system so you can monitor the progress and see your court being assembled, painted, and checked for quality before being shipped.
Your Order is Placed
Receive Order Notification
After you've worked with the VersaCourt Team to design your court, they'll begin to process your order and you'll receive automated email notifications of your court's status.
Your Court is Manufactured
Receive Manufacturing Notification
Once your court order has been entered into our system, our state-of-the-art manufacturing facility and team will be notified to start production of your court tiles.
Your Court is Assembled and Painted
Receive Production Notification
The VersaCourt warehouse team will assemble your court to assess for any imperfections. They'll then paint your requested game lines and artwork onto your new court.
Your Court is Documented & Assembled
Receive Assembly Complete Notification
Once your court has been assembled and painted, you'll receive another email notification with a documented picture of your finished court.
Your Court is Shipped
Receive Shipping Notification
Our team we'll proceed to disassemble your court into 4x4 tile section and carefully load sections onto a pallet for shipping and delivery.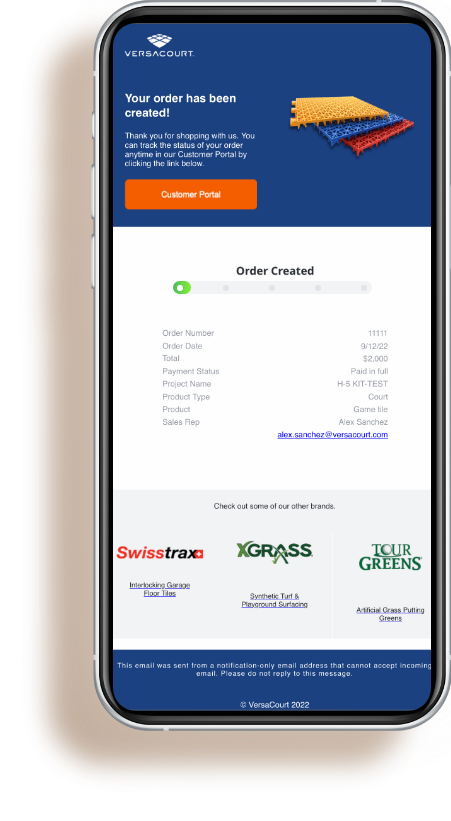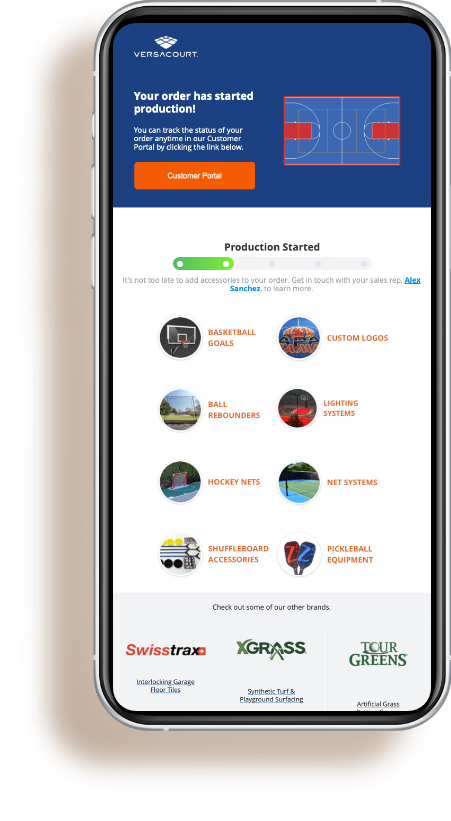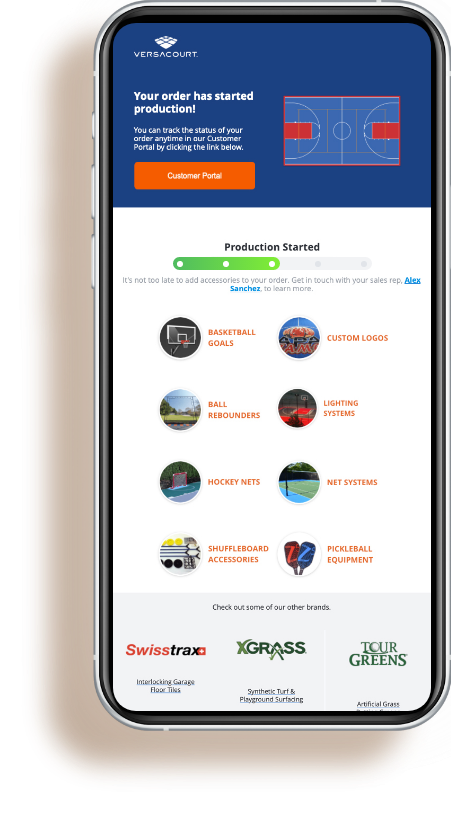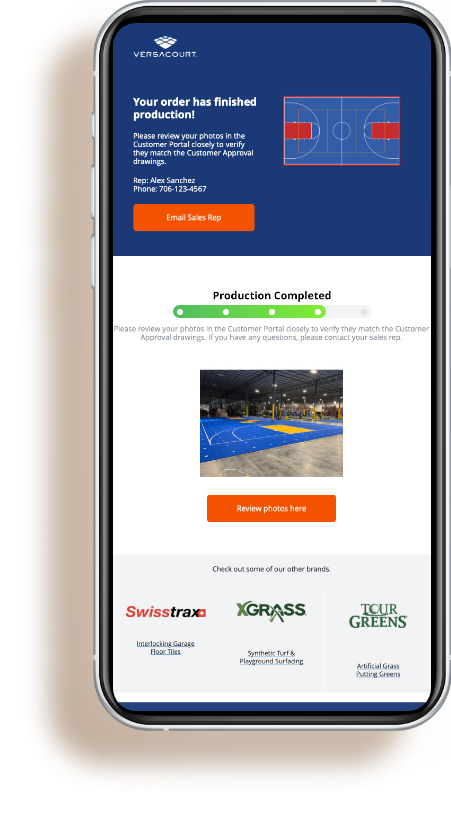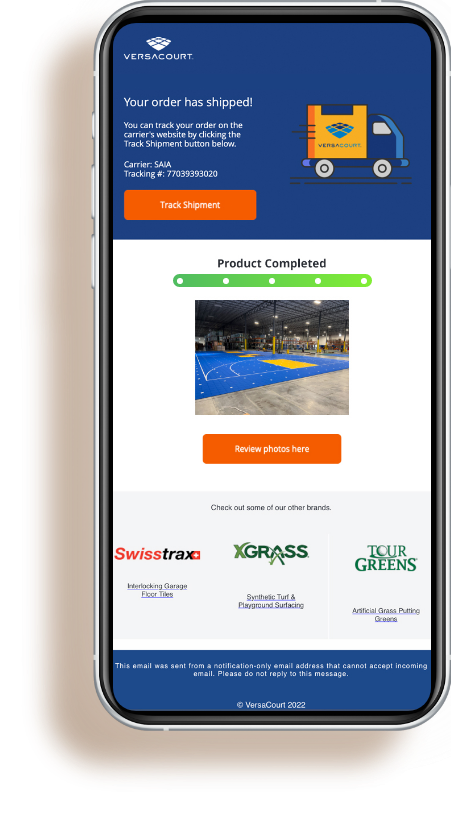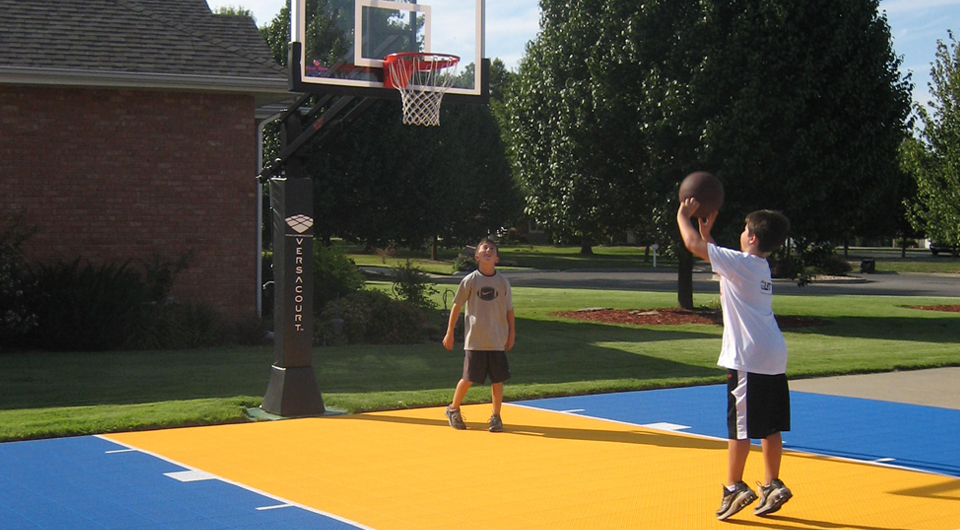 Ongoing Service
Once installed, you'll rest assured knowing that your court is backed by our Court-for-Life warranty program and tied into our other exciting Loyalty, Referral and Recycling programs.
30-Day Money Back Guarantee
Primary Warranty
Replacement Program
You Care, We Care Initiative
Refer a Friend Program
Partner Programs
Proven Record of Success
The combination of VersaCourt's Value, Versatility and Performance with its industry-leading service has made it the choice of homeowners, HOAs and other businesses and organizations throughout the world.
Backyard Retreat
Bring the Home
With plenty of space, this family wanted to create a backyard environment where they could entertain family and friends with fun and exciting outdoor activities. VersaCourt teamed up with XGrass and Tour Greens to create a backyard that would truly Bring the Fun Home.
Future Stars
Bring the Home
A family with young children presented VersaCourt the opportunity to "Bring the Fun Home" to their backyard by creating this complete practice facility. Whether the kids will be stars in the future remains to be seen, but with a Tour Greens practice green, a multi-sport game court from VersaCourt and a batting cage complete with XGrass sports turf, they have the tools they'll need to succeed.
Countryside Estate
Bring the Home
With three young children and plenty of space at their countryside estate, this couple tasked us with bringing the fun home to their little slice of heaven. By working with our sister companies Tour Greens and XGrass, we were able to create a little something for everyone in the family.